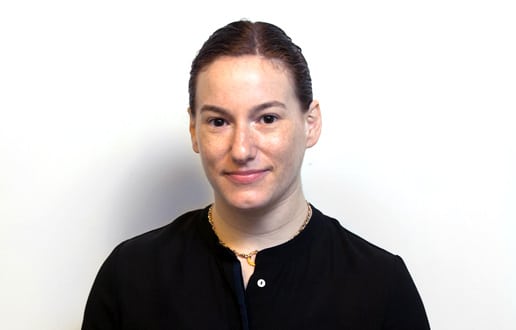 Electra City Tower
58 Harakevet St.
Tel Aviv
6777016
Avishag Salomon
Avishag provides representation to both companies and individuals in the enforcement field.
Avishag advises these clients on a broad range of criminal and administrative enforcement procedures, including those involving money laundering, insider trading, and various internal investigations. 
Avishag specializes in the white-collar field. She assists companies and individuals in various issues in the field of criminal and administrative enforcement, both locally and internationally. In this context, Avishag advises clients suspected of economic offenses, including money laundering, bribery, tax evasion, insider trading, various types of securities fraud, and internal investigations. She provides legal support throughout an entire legal proceeding—from discovery including thousands of documents, to the construction of a defense strategy and representation before the relevant courts and authorities.
Avishag also accompanies companies in the preparation and implementation of internal compliance plans.
Education:
Interdisciplinary Center Herzliya (LL.B. and B.A. in Business Management), 2016
Tel Aviv University (B.A. in Political Science and East Asian Studies), 2009
Admission:
Member of Israel Bar Association since 2018
News and updates - Avishag Salomon:
September 19, 2021
Israeli Privacy Protection Authority Publishes New Statement Concerning Location Data in Workplaces
There has been an uptrend in recent years of employers using a variety of technological tools to supervise their employees and oversee the quality of their work. The use of these tools has become more prevalent due to the shift of many organizations to working from home last year.
August 12, 2021
Indictments Filed in US for Fraudulent Receipt of Federal Financial Assistance from CARES Act
With the outbreak of the COVID-19 pandemic, the United States government enacted the Coronavirus Aid, Relief and Economic Security (CARES) Act. The volume of assistance, totalling USD 2.8 trillion, provided financial aid to individuals and organizations facing economic hardship and access to loans with convenient terms for the purpose of paying salaries and other specific expenses under a program called the Paycheck Protection Program (PPP). Many Israeli companies operating in the United States also submitted applications for grants and loans under the PPP.
The initiative, while commendable, also opened the door for those seeking to exploit the government assistance to commit fraud and deceit.
These acts led to some of the most expensive white-collar criminal investigations in US history. The vast investigative resources allocated by the government for this effort continue to produce results. Hundreds of indictments were filed last year for acts of fraud relating to CARES Act financial assistance.
The speed at which US prosecutorial authorities conducted investigations and filed indictments in these cases is extraordinary. White-collar investigations usually take months or even years until authorities can determine what crimes are indictable and who was responsible for them. However, the first CARES Act fraud cases were quickly investigated and indictments on fraud charges were filed within a few weeks, after the initial loans were provided in the spring of 2020.
The US Department of Justice announced that the rationale behind its high-speed efforts is deterrence. Considering that more than USD 800 billion are in play through the PPP, the US government wants to make it crystal clear to borrowers who might be tempted to exploit the program of the repercussions of committing fraud. The sentences being handed down in these cases are also quite harsh (from 18 to 40 months of incarceration).
The speed of the investigative efforts, the filing of indictments, and the harsh sentences reflect a strict policy, which the Biden administration is clearly continuing. The enormous resources allocated by the government continue to be channeled toward exposing additional fraud crimes relating to the CARES Act.
This strict policy and the fact investigative and enforcement efforts do not appear to be slowing down may also affect Israeli companies operating in the United States. Israeli companies that filed applications for CARES Act assistance may face requirements to provide explanations on the details of the activities they declared in their loan or grant applications, or about their uses of the assistance funds.
We advise companies that received requests from law enforcement authorities in the United States, or that worry the authorities might contact them, to consult with attorneys specializing in US law, particularly administrative enforcement and white-collar crime.
July 13, 2021
Implications of European Whistleblower Protection Directive on Israeli Companies
By October, companies in the European Union employing at least 50 employees will be required to operate an internal reporting system for reporting misconduct that may indicate compliance violations. Furthermore, all companies in the EU, regardless of size, will be required to ensure the protection of whistleblowers from all types of retaliation.
The EU Whistleblower Protection Directive originally came into force in October 2019. It gave EU member states two years to prepare to incorporate the directive into their national legislation. Prior to the enactment of the directive, no uniform binding legislation applied to all EU member states and only 10 member states had enacted national legislation in this regard. The upcoming inception of national whistleblower protection laws throughout the EU will naturally trigger a ripple effect.
Although the situation in Israel is different, and the EU directive will not apply to Israeli companies operating in Israel that are not subject to the directive in some way, past experience has shown that the ripple effect of such legislation will also reach Israel's shores. The repercussions may take the form of accelerated legislation of whistleblower protections in Israel, or of major European companies applying pressure on their Israeli partners to make sure the latter comply with the European standards as a precondition to continuing joint business activities. Either way, it would be wise for Israeli businesses to devote some thought to this issue.
The obvious starting point is by defining the term "whistleblower." Whistleblowers are employees or third parties who discover during the course of their work misconduct that could be detrimental to the public interest and who report that misconduct to some authority (usually inside the company). Examples of misconduct include actions that cause environmental damage, harm public health, or adversely impact investors in the capital market.
It is important to note within this context that, although Israel has not enacted legislation similar to the EU directive about to take effect, there is definitely growing awareness of the issue in Israel. Firstly, the Protection of Employees (Exposure of Offenses, of Unethical Conduct and of Improper Administration) Law already protects whistleblowers in the public sector. In addition, there is also growing awareness in the private sector that internal reports of misconduct and offenses inside organizations should be encouraged and that there is a need to protect whistleblowers.
So what does the EU Whistleblowing Protection Directive include?
The directive obligates the creation of safe communication channels for reporting within organizations themselves.
It expands the protection to also include instances of reporting through external channels. For the most part, the directive encourages whistleblowers to use internal channels for the initial report, before referring to authorities outside of their organizations. Nevertheless, the directive states that whistleblowers must not be denied protection even if they decide to report to external authorities from the outset.
The directive expands whistleblower protection to include not only employees, but also volunteers, interns, shareholders, etc.
It defines the means of protection to be provided to whistleblowers against acts of bullying or retaliation, such as through suspensions from work, demotions, threats, or other means of intimidation.
The directive expands the scope of protection to also cover people who help whistleblowers, whether colleagues or family members.
It adds a list of support measures that must be provided to help whistleblowers.
The directive obligates corporations and authorities to take action upon receiving a whistleblower's report within three months. (This time frame may be extended to six months in justified instances.)
Companies that fail to comply with these requirements are placing themselves at risk, because whistleblowers may resort to external reporting channels and report the companies to EU authorities. This will generate bad press and the label that these companies allow unethical offenses and misconduct and have a poor culture of compliance.
Therefore, Israeli companies with subsidiaries or related companies in EU member states should accelerate their preparations for tightening their culture of compliance and implement internal mechanisms in conformity with the directive's provisions.
In addition, as mentioned, it would also be wise for Israeli companies, even those without any ties to the EU, to devote some time to building customized internal mechanisms to encourage and protect whistleblowers.
Source: barlaw.co.il