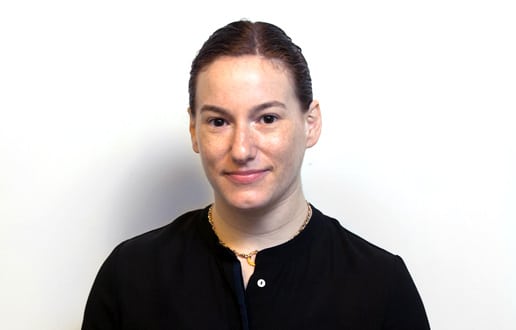 Electra City Tower
58 Harakevet St.
Tel Aviv
6777016
Avishag Salomon
Avishag provides representation to both companies and individuals in the enforcement field.
Avishag advises these clients on a broad range of criminal and administrative enforcement procedures, including those involving money laundering, insider trading, and various internal investigations. 
Avishag specializes in the white-collar field. She assists companies and individuals in various issues in the field of criminal and administrative enforcement, both locally and internationally. In this context, Avishag advises clients suspected of economic offenses, including money laundering, bribery, tax evasion, insider trading, various types of securities fraud, and internal investigations. She provides legal support throughout an entire legal proceeding—from discovery including thousands of documents, to the construction of a defense strategy and representation before the relevant courts and authorities.
Avishag also accompanies companies in the preparation and implementation of internal compliance plans.
Education:
Interdisciplinary Center Herzliya (LL.B. and B.A. in Business Management), 2016
Tel Aviv University (B.A. in Political Science and East Asian Studies), 2009
Admission:
Member of Israel Bar Association since 2018
News and updates - Avishag Salomon:
September 19, 2021
Israeli Privacy Protection Authority Publishes New Statement Concerning Location Data in Workplaces
There has been an uptrend in recent years of employers using a variety of technological tools to supervise their employees and oversee the quality of their work. The use of these tools has become more prevalent due to the shift of many organizations to working from home last year.
November 2, 2020
COVID-19, From Crisis to Opportunity
Much has been written about instability in the corporate world brought on by COVID-19. Alongside the health risks caused by the virus, it has also resulted in a serious economic crisis at every level. Parallel to these crises, this challenging period is also a call to executives and officers. Uncertainty and despair can serve as an incentive for individuals and corporations to conduct themselves improperly, in a manner that challenges corporations' internal audit and compliance mechanisms.
Executives must thus understand that the current period presents a managerial challenge the likes of which has never been seen before. On the other hand, this period may also represent an opportunity for compliance officers, in-house counsels, and corporate risk managers to upgrade their systems through new technologies and adopt tools to help their organizations ensure they are doing everything in their power to prevent violations of the law.
Increase in Detection of Embezzlements and Irregularities
A study conducted last July among internal auditors, risk managers, CFOs, and compliance officers at various corporations, both public and private, revealed that the first wave of the pandemic "helped" organizations to identify embezzlements and irregularities that took place before COVID-19. The Explanation: many of the employees involved in embezzlements and irregularities were placed on unpaid leave and replaced by other individuals in the organization.
These individuals were then exposed to the data that led to the detection of improprieties.
This finding should surprise no one. Irregularities exist, to some extent, in any organization. Organizations and companies would do well not to wait for the next wave of COVID-19 to spot improper conduct. This duty cannot be delayed to a later date or time. Especially today, when the business world is facing the great challenge of managing employees remotely, organizations must adopt technological tools and create clear work protocols in order to improve compliance in the corporation. In this article, we wish to shine a light on three aspects we recommend be weaved into a company's work protocols on compliance.
The Corporation's Documentation Practices
The necessity to work from home and the lack of a physical presence in the office has highlighted the need to reexamine the manner in which a corporation documents information. This includes work hours, the documentation of work products, the reliability of documentation, the manner of documentation, and more.
An organization must map out its needs in this context, as well as select which positions in the organization are obligated to perform the documentation. Thereafter, the organization must determine how the documentation should be performed. Remember the rule of thumb that has only become more and more apt as time goes by: "If it was not documented, it was not done."
Efficient Use of Advanced Technologies
Compliance officers and others charged with compliance duties in corporations must be familiar with the various technological tools in the market that may assist them in managing databases, improving performance, holding remote trainings, auditing, creating a reporting mechanism that meets the challenges of the times, and more.
Blockchain technology, for instance, may facilitate the establishment of a corporation's documentation system, as well as help meet any new needs that may have arisen during the COVID-19 crisis. The World Economic Forum published in April 2020 a "toolkit" for using blockchain technology for different aspects of commercial corporations' business activities, while emphasizing supply chains ("Redesigning Trust: Blockchain Deployment Toolkit").
In effect, within this publication, the World Economic Forum has compiled the best practices designed over recent years to embed blockchain-based systems in corporations, in order to make the possible uses of this advanced technology accessible and easy for corporations to move their business forward. Naturally, the transparency, decentralization of information, and sharing capabilities that characterize blockchain technology may become the infrastructure for use of the technology across many fields. Use of blockchain technology carries many advantages that may help to reduce mistakes caused by manual work. Additional advantages: increase efficiency, decrease reporting costs, and ease compliance for a corporation.
The Significance of Having Compliance Officers at the Corporation's Decision-Making Table
In times of crisis, the importance of an organization's compliance officers increases. This must be viewed as an opportunity to work toward a tighter adoption of ethics rules. risk management, and management of the organization. Naturally, a codependence exists between the organization's management, which is charged with its professional management, and the compliance department. Still, in many organizations, the compliance function is entirely separate from the management and operates independently. This view (which is also termed the "stand-alone" approach) prevents the integral involvement of compliance officers in a corporation's decision-making process.
This may thus lead to circumstances in which compliance officers' hands are tied in terms of resources and support by the organization's management, as well as circumstances in which the organization's management is unaware of the entire range of risks and exposures involved in the organization's activity. A centralized approach, whereby the compliance function takes an active role in risk management and participates in the decision-making process, would enable a holistic view by the organization's management and ultimately create an organization with a corporate culture of compliance.
If the organization you are associated with is run using a stand-alone approach, it is recommend to take advantage of the current situation and demonstrate creativity and innovation not just in the day-to-day operations but in the relationship between compliance and management teams as well.
It is a well-known rule that every crisis is also an opportunity to learn new lessons and improve capabilities. Crises test our resilience and prevent us from fooling ourselves about necessary realities. Therefore, the COVID-19 crisis presents a real opportunity to upgrade an organization's compliance mechanisms and the status of compliance officers, not only by improving capabilities, but also in the ability to get involved and deepen connections with the organization's management.
February 3, 2020
EU Taking Steps to Ensure Wide Protections for Whistleblowers
In October 2019, the Council of the European Union adopted new rules to protect whistleblowers through a new directive.