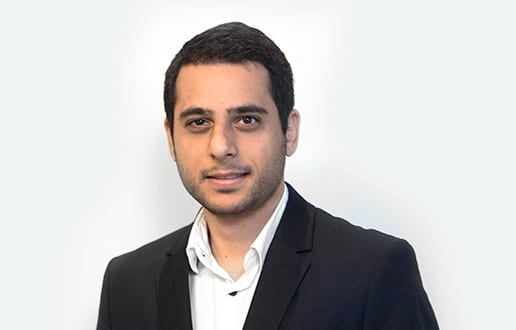 Electra City Tower
58 Harakevet St.
Tel Aviv
6777016
Alon Anava
Alon specializes in counseling public and private companies on capital and debt raising, IPOs, and investment and financing transactions.
Adv. Alon Anava deals primarily in the field of corporate law, securities, and financial regulation. He regularly accompanies companies and reporting corporations from the technology, cannabis, and industrial areas. He advises on all aspects of the Companies Law and the Securities Law, including the preparation of prospectuses and immediate reports, the carrying out of IPOs, stock exchange delisting procedures, and capital raising. He also provides representation before the Israel Securities Authority.
Alon has unique expertise in the field of crowdfunding. Alon represents crowdfunding intermediaries and other fintech companies in licensing proceedings with the Israel Securities Authority and the Capital Market, Insurance and Savings Authority, as well as advises on various regulatory issues.
Prior to joining the firm, Alon worked at a law firm specializing in capital markets, financial regulation, and commercial law.
Education:
The College of Management Academic Studies, LL.B., 2013
Admission:
Member of Israel Bar Association since 2014
News and updates - Alon Anava:
January 24, 2022
Crowdfunding for Startups
The Israeli capital market is marking four years since the entrance into force of the regulations that enable capital and debt financing through crowdfunding. This article will briefly review the crowdfunding market in Israel. It will present the advantages and disadvantages of this funding model, and consider suitable candidates for this type of funding.
What Is Crowdfunding?
Crowdfunding is a relatively new funding model. It enables private companies to publish a fundraising campaign to recruit small sums of money from an unlimited number of investors. In return, the investors receive an allotment of shares (or debentures), without a prospectus and all of the associated costs involved in an IPO process.
The raising of the funds takes place through an online platform operated by an offering coordinator, an entity supervised by the Israel Securities Authority. The offering coordinator's role is to coordinate all of the campaigns on the platform and perform various examinations to ensure the campaigns comply with the provisions of the law.
A campaign runs for a particular time frame. If, by its conclusion, the company succeeds in raising the minimum defined sum, the offering coordinator transfers the funds to the company and allocates the shares or the debentures to the investors. If the company does not succeed in raising the minimum defined sum, the investors receive their funds back.
As a rule, any company can recruit between ILS 4-6 million during 12 consecutive months. Investors are restricted to a cumulative investment of between ILS 20-60 thousand, depending upon each investor's annual income.


Let's Talk Numbers
There are currently three active and prominent offering coordinators in Israel: Pipelbiz, Fundit, and Together. In addition to these offering coordinators, several other platforms raise funds for ventures, albeit not via the crowdfunding model. Some examples include ExitValley and OurCrowd.
In 2020, these offering coordinators raised a total of ILS 60 million, in more than 35 campaigns by various private companies. Compared to 2019, when about ILS 45 million was raised through offering coordinators, this is an increase of about 33%. There is an expectation the data for 2021 will show a further increase.
One of the factors that has had a significant impact on the growth of the Israeli crowdfunding market, is the extraordinary prosperity of the local high-tech market. The high-Tech market reached an unprecedented transaction volume of about USD 10.1 billion in 2020 alone. Seemingly, as the local high-tech market continues to thrive, so will crowdfunding platforms, since most of the companies raising funds through these platforms are technology companies.
The nascent crowdfunding market in Israel has already benefited from several impressive exits. The first company that provided investors with a "dream" exit is Innocan, which operates in the medical cannabis field. Innocan raised funds in 2019 through the Pipelbiz platform. In 2020, it was listed on the Canadian Stock Exchange at a value reflecting a significant return to investors.
Still, it is essential to note that investments in technology companies are venture capital investments for all intents and purposes. An investment is more likely to go down the drain than result in a profitable exit. This is one of the reasons why the legislature decided to limit investors to relatively low investment sums proportionate to their annual income levels.


Advantages and Disadvantages of Crowdfunding
The most significant advantage of crowdfunding is that it is convenient and straightforward. In addition, it facilitates swift access to money. Crowdfunding also provides companies engaging in diverse fields extraordinary exposure to an unlimited number of investors. Investors become partners in a company's success and ambassadors of the company and its business. For investors, crowdfunding offers them investment opportunities, including in technological ventures formerly available only to serious venture capitalists.
Crowdfunding is a fundraising channel suitable mainly for young companies looking for seed money. It is less suitable for large companies that primarily need higher sums of funding. Furthermore, despite the significant reliefs the legislature granted to companies raising capital from the public via the crowdfunding model, such companies are still required to issue public disclosures about their activities during their campaigns. These include disclosures on their latest financial statements, their business plans, details about engagements, interested parties, etc.
Investors also need to consider that, because of the relatively low investment sums, for the most part, they will have no ability to influence the company's decisions or mode of management. This differs from institutional or sophisticated investors. Those investors largely acquire this ability in consideration for their investments by receiving the right to appoint a board member or veto rights concerning significant decisions.


For Whom Is Crowdfunding Suitable?
Crowdfunding is especially suitable for companies that prefer quick access to funding to enable the company's founders to retain control and management powers. This funding is largely sufficient for these companies to develop proof of concept and minimum viable product. Later, they might be able to raise funds according to a higher company value.
For investors, the crowdfunding model offers an alternative investment channel. This channel enables them to diversify their standard investment portfolios while limiting their investment volume and hedging the risk.
Engaging with a crowdfunding platform is relatively easy. Still, it is advisable to consider several factors and to consult with attorneys who are well versed in the regulatory requirements applying to these platforms and to the companies that raise funding through them. We recommend you do so before, during, and after the engagement to avoid any legal implications.

***

Barnea Jaffa Lande is a leading Israeli law firm that specializes in providing legal services to crowdfunding platforms and to companies that raise funds through them. If you have any questions, please feel free to contact us.
June 17, 2020
Adjustments to Required Disclosures in Reports in Light of the Coronavirus
Several weeks ago, the Israel Securities Authority published a staff position paper on the consequences of the coronavirus crisis for the disclosure and financial reporting included in the 2020 first quarter report.
March 17, 2020
The ISA Eases Obligations for Reporting Companies
The Israel Securities Authority revised its previous position and announced that in light of the exceptional circumstances, reporting corporations may submit their 2019 periodic reports until April 30, 2020.