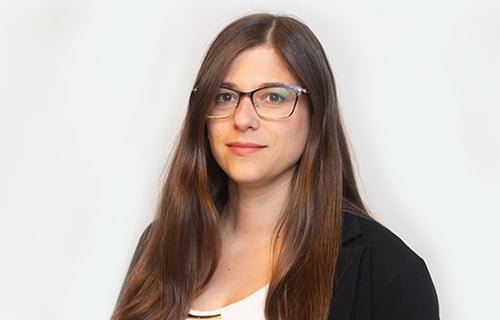 Electra City Tower
58 Harakevet St.
Tel Aviv
6777016
Gal Livshits
Gal, a partner in the Litigation Department, specializes in handling complex litigation cases in the commercial-business field.
Adv. Gal Livshits represents corporations and private clients, both local and foreign, in intricate litigation cases covering a wide range of legal issues, including infrastructure projects, contracts, business restrictions, intellectual property, international law, inheritance, and more.
Gal provides comprehensive legal counsel that covers both the development of a legal strategy tailored to the client's needs and representation in all judicial proceedings, including both in courts and in arbitration and mediation processes.
Gal boasts extensive experience in representing clients during complex disputes involving large-scale projects, with an emphasis on disputes in the infrastructure and construction sector. Her clients include entrepreneurs, concessionaires, EPC contractors, O&M contractors, government entities, private companies, and more.
In addition, Gal has experience in representing private clients in inheritance and family wealth disputes of a wide scope, which encompass economic-commercial aspects and cross-border issues.
In 2023, Gal was ranked by The Legal 500 in the Dispute Resolution: Local Litigation & Arbitration practice area.
Education:
Haifa University (LL.B), 2009
Admission:
Member of Israel Bar Association since 2010
Insights & News - Gal Livshits:
September 20, 2023
Israeli Contracts Law Proposed Amendment – How Dramatic Is It?
Contrary to the headlines, a careful examination of the amendment shows it is anchored in Supreme Court case law, and that it creates greater certainty with regard to contract interpretations in the business sector.
July 30, 2023
Amendments to the Israeli Succession Law
Amendments to the Israeli Succession Law have recently come into effect that expand the authority of the Succession Registrar, reduce the number of matters transferred to the Family Court, and limit instances of the Custodian General's supervision over estate executors.
June 28, 2023
Representing a Billionaire in a Dispute with His Former Son-in-Law
A tumultuous seven-year family conflict ended with the issuance of a ruling by Israel's Supreme Court. The Court ruled in our client's favor that funds allocated by him for the benefit of his daughter and which were managed by his former son-in-law in various investments were meant to be held in trust and were not given as a gift, as the son-in-law claimed.
The Supreme Court ruled that a trustee will be appointed to manage the trust in accordance with its goals, that the former son-in-law must return the funds to the trust, and that the trustee shall be entitled to take any action necessary to recoup all of the trust's assets, including the funds the son-in-law allegedly embezzled. In addition, the Supreme Court ordered the son-in-law to bear our client's legal fees and expenses amounting to NIS 1.25 million.
Zohar Lande, Gal Livshits, Adi Shoham, Zohar Haim Levinger, and Liron Dahan provided representation in this matter.