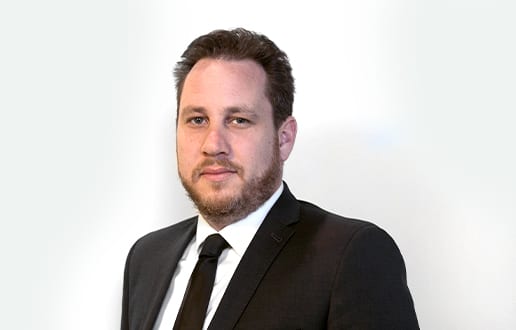 Electra City Tower
58 Harakevet St.
Tel Aviv
6777016
Eyal Nachshon
Eyal has gained considerable experience representing economic bodies – banking and financial institutions, public companies, private companies, and senior businessmen – in high-volume, complex legal proceedings before the various courts, including district courts and the Supreme Court.
Eyal has particular experience representing individuals and companies in class action suits. He defends class actions in several substantive areas, ranging from antitrust, allegedly deceptive business practices, false advertisement, product liability, and accessibility. Eyal also represents high-net-worth individuals in civil and commercial litigation.
He is also known for his strategic and creative counsel in the management of complex class action litigation.
Eyal's litigation experience also extends to derivative claims, control disputes, and administrative petitions of an economic nature.
Before joining Barnea, Eyal served as a legal assistant to Justice Esther Hayut of the Supreme Court. He also worked for a number of years at leading law firms in the practice areas of commercial-economic litigation and white-collar crime.
Eyal has been a tutor and a guest lecturer for various courses at Hebrew University, the University of Haifa, and the College of Law and Business in Ramat Gan.
Education:
Columbia Law School, New York (LL.M, Harlan Fiske Stone Scholar), 2011
University of Haifa (BA in economics, LL.B, cum laude), 2008
Admission:
Member of the Israel Bar Association since 2009
News and updates - Eyal Nachshon:
February 18, 2021
Mediation Agreement between Actors' Organization and Eshkolot Reaches Court
Israeli Attorney General Avichai Mandelblit has submitted his opinion regarding the mediation agreement signed by the actors' organization Shaham and a number of performing artists with Eshkolot.
An article published in TheMarker describes the management changes being undertaken by Eshkolot as a result of the legal proceedings against it.
Adv. Eyal Nachshon, who represents Shaham and the artists, noted in the article that Shaham and a number of artists have been leading this legal proceedings for some time, demanding both significant changes to Eshkolot's management and increased transparency. One of the most substantial achievements in the process so far, thanks to the mediation arrangement, is that for the first time members from the younger generation of performing artists in Israel are being included in Eshkolot's management.
February 1, 2021
Class Action Lawsuits: What Are They?
What are class actions and what is their purpose? In what circumstances may a class action be filed? What are the important points to consider when filing a class action? Eyal Nachshon, a partner in our firm's Litigation Department, answers all these questions and more on a new Calcalist podcast.
December 27, 2020
The Battle Firing Up Prominent Artists in Israel
In recent years, leading artists in Israel have alleged a lack of transparency in how Eshkolot, a company that oversees artists' royalties, is managing their money. Several of these artists are stakeholders of the company, and some previously held various positions in the company. 
Adv. Eyal Nachson was interviewed for an article by TheMarker on the subject. Eyal was quoted as follows: "On the recommendation of the court, Shaham – The Israel Actors' Association conducted a comprehensive and in-depth mediation procedure with Eshkolot. At the end of the mediation, the parties reached an agreement including achievements that will strengthen the control and supervision of the royalty amounts."