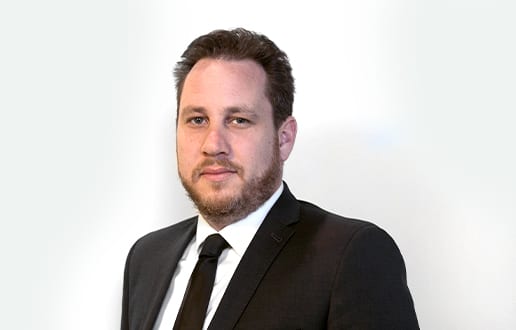 Electra City Tower
58 Harakevet St.
Tel Aviv
6777016
Eyal Nachshon
Eyal has gained considerable experience representing economic bodies – banking and financial institutions, public companies, private companies, and senior businessmen – in high-volume, complex legal proceedings before the various courts, including district courts and the Supreme Court.
Eyal has particular experience representing individuals and companies in class action suits. He defends class actions in several substantive areas, ranging from antitrust, allegedly deceptive business practices, false advertisement, product liability, and accessibility. Eyal also represents high-net-worth individuals in civil and commercial litigation.
He is also known for his strategic and creative counsel in the management of complex class action litigation.
Eyal's litigation experience also extends to derivative claims, control disputes, and administrative petitions of an economic nature.
Before joining Barnea, Eyal served as a legal assistant to Justice Esther Hayut of the Supreme Court. He also worked for a number of years at leading law firms in the practice areas of commercial-economic litigation and white-collar crime.
Prominent legal directory The Legal 500 ranks Eyal as a Recommended Lawyer in the Dispute Resolution: Local Litigation & Arbitration practice area.
Eyal has been a tutor and a guest lecturer for various courses at Hebrew University, the University of Haifa, and the College of Law and Business in Ramat Gan.
Education:
Columbia Law School, New York (LL.M, Harlan Fiske Stone Scholar), 2011
University of Haifa (BA in economics, LL.B, cum laude), 2008
Admission:
Member of the Israel Bar Association since 2009
News and updates - Eyal Nachshon:
May 8, 2022
Plus Ventures and Oren Abeksis Sue Unicorn Company Lusha for Fraud
The investment fund Plus Ventures and private investor Oren Abeksis claim they invested millions of shekels in a previous incarnation of Lusha and that they were defrauded by the entrepreneurs. Zohar Lande, Eyal Nachshon, Dana Bookstein, and Naama Ben Arosh Moshe are representing the plaintiffs.
February 21, 2022
Website Accessibility - Legislation and its Meaning
Adv. Anat Even Chen and Adv. Eyal Nachshon, Partners at our office, lectured today at the website builders forum on the requirements and obligations of owners, site builders, and site operators given the obligation to access the degrees.
February 13, 2022
Nothing Lasts Forever – New Israeli Supreme Court Ruling Expected to Reduce Legal Protection Granted to Managers and Board Members in Israel
After a lawsuit filed by liquidators of a company that collapsed against the company's former officers, directors, and independent auditors was dismissed in limine, a new Israeli Supreme Court ruling overturned that decision and allowed the liquidators to move forward with the lawsuit, alleging that lack of oversight was what led to the company's collapse. The significance of this new ruling is that the "business judgment rule" will no longer be interpreted as providing automatic protection to executives, and they may now be compelled to participate in lengthy legal proceedings to prove their entitlement to legal protection.