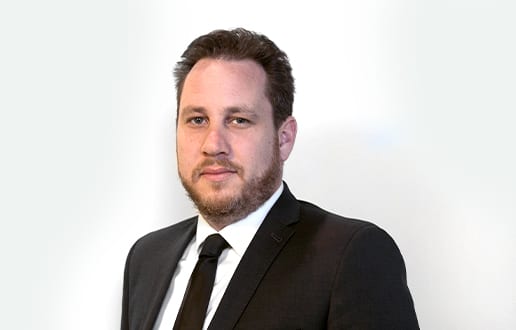 Electra City Tower
58 Harakevet St.
Tel Aviv
6777016
Eyal Nachshon
Eyal has gained considerable experience representing economic bodies – banking and financial institutions, public companies, private companies, and senior businessmen – in high-volume, complex legal proceedings before the various courts, including district courts and the Supreme Court.
Eyal has particular experience representing individuals and companies in class action suits. He defends class actions in several substantive areas, ranging from antitrust, allegedly deceptive business practices, false advertisement, product liability, and accessibility. Eyal also represents high-net-worth individuals in civil and commercial litigation.
He is also known for his strategic and creative counsel in the management of complex class action litigation.
Eyal's litigation experience also extends to derivative claims, control disputes, and administrative petitions of an economic nature.
Before joining Barnea, Eyal served as a legal assistant to Justice Esther Hayut of the Supreme Court. He also worked for a number of years at leading law firms in the practice areas of commercial-economic litigation and white-collar crime.
Prominent legal directory The Legal 500 ranks Eyal as a Next Generation Partner in Dispute Resolution: Local Litigation and Arbitration
Eyal has been a tutor and a guest lecturer for various courses at Hebrew University, the University of Haifa, and the College of Law and Business in Ramat Gan.
Education:
Columbia Law School, New York (LL.M, Harlan Fiske Stone Scholar), 2011
University of Haifa (BA in economics, LL.B, cum laude), 2008
Admission:
Member of the Israel Bar Association since 2009
Insights & News - Eyal Nachshon:
September 21, 2023
Derivative Claims and Independent Committees: Eyal Nachshon Lecture on Israeli Association of Publicly Traded Companies Webinar
Following the publication of draft regulations on derivative claims, Eyal Nachshon, a partner in our firm's litigation department, was invited to participate in a webinar hosted by the Israeli Association of Publicly Traded Companies on the issue. In his lecture, Eyal referred to the draft regulations with an eye toward litigation.
July 3, 2023
Avishay Klein and Eyal Nachshon in TheMarker
TheMarker's Ahad Ha'am magazine published an op-ed by Dr. Avishay Klein on the Israel Securities Authority's latest guidelines on cyber risks (page 4). The same issue also features an interview with Eyal Nachshon in an article on the increase in scope of class action lawsuits against public companies in Israel (page 11). Eyal addressed, among other things, his representation of several companies in a recent series of digital accessibility class action lawsuits.
June 20, 2023
Class Actions Law: Eyal Nachshon Lectures on Israeli Association of Publicly Traded Companies Webinar
Eyal Nachshon, a partner in our firm's Litigation Department, was invited to lecture on a webinar hosted by the Israeli Association of Publicly Traded Companies. Eyal discussed a recent case involving 70 simultaneous digital accessibility class action lawsuits. Also lecturing as part of the webinar were representatives from the Ministry of Justice and the Israel Securities Authority, who served as members on the committee examining the recently published amendment to Israel's Class Action Law.