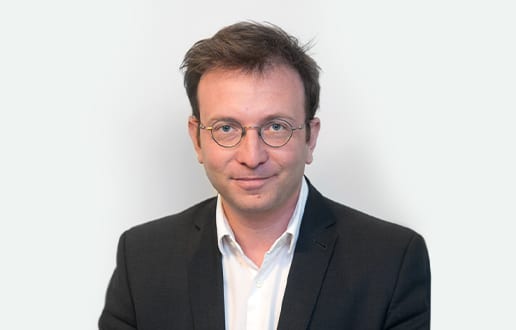 Electra City Tower
58 Harakevet St.
Tel Aviv
6777016
Samuel Henri Samuel
Samuel specializes in M&A, technology, and project finance matters.
Samuel represents both domestic and international clients – including corporations, VC funds, startups, and entrepreneurs – in cross-border acquisitions, investments, and joint ventures.
As part of his work in the Infrastructure and Project Finance Department, Samuel regularly counsels state-owned companies, entrepreneurs, and international contractors in the oil & gas, renewable energy, transportation, and water fields.
Samuel has also gained experience advising lenders and borrowers on a variety of financing with respect to the development of domestic and international projects across a wide range of industries.
Before joining Barnea, Samuel served as an associate in several leading Israeli law firms and worked in Paris as an attorney in a corporate law firm.
Education:
Universite Pantheon-Assas, Paris II, (LLM Private Law), 2005
Admission:
Member of the Paris Bar Association, 2008
Member of the Israel Bar Association, 2011
News and updates - Samuel Henri Samuel:
November 9, 2020
Our Firm Represented CAF in Funding for Jerusalem Light Rail Project
After a year of negotiations, Jerusalem Light Rail concessionaire Shapir Engineering and its Spanish partner CAF announced the closure of a financial agreement for the construction and operation of a network of light rail lines in Jerusalem. The project's initial financing, amounting to nearly NIS 4 billion, will be led by Bank Hapoalim, with the participation of First International Bank of Israel, investment house Altshuler Shaham, and insurance company Migdal. Our firm's Simon Jaffa and Samuel Henry Samuel represented CAF in the transaction. This is CAF's first project in Israel.
July 19, 2020
NIS 600 Million Financial Closure at Etgal Power Plant
We represented a group of institutional lenders, including Psagot and Amitim, in a deal to finance Shikun & Binui Group's construction and operation of a power plant in Ashdod, for approx. NIS 600 million.
Amitim and Psagot were represented by Advs. Simon Jaffa, Samuel Henri Samuel, and Rotem Orbach.  
April 6, 2020
Contractual Obligations during the Coronavirus Outbreak
The coronavirus outbreak has stricken us all by its brutal implications on our daily lives. Alongside the invasion of personal space, the virus' effects have not spared the business arena, and the ability of both businesses and individuals to meet their contractual obligations is also in question.
First, it is important to understand what the law says regarding breach of contract.
The Contract Law provides protection in the event a party to a contract cannot fulfill its obligations due to an unforeseen occurrence not under its control. This event is also known as a "preventive event." However, for an occurrence to fall under this definition, the following three conditions must be met:
the breach is due to circumstances of which the breaching party was not aware and should not have been aware or did not foresee and should not have foreseen at the time the contract was concluded;
such circumstances could not have been prevented by the breaching party; and
performance of the contract under such circumstances is impossible or fundamentally different from what was agreed between the parties.
When these conditions are met, the breaching party will not be liable for any delay or default in performing its obligations under the contract, or for paying compensation to the other party. However, despite this statutory defense, it should be kept in mind that the threshold set by the law is relatively high and may be very difficult to prove in court. Therefore, it is important to re-examine the contract's content and understand whether there is a "force majeure" condition that, while broad enough, will provide significant protection, also for the coronavirus.
So what does the contract actually say? And what is the meaning of "force majeure"?
The business arena features a wide variety of transactions, each characterized by different force majeure clauses. Therefore, it is important to understand what type of contract is involved.
For example, in simple commercial contracts governing the day-to-day business activity of a business, no matter what field or subject it specializes in, a specific section can be found usually under the title "force majeure." This section lists various situations and extreme events whose occurrence exempts a party from performing its contractual obligations.
In this respect, a party to a contract directly affected by the coronavirus outbreak would have to prove that the events enumerated in the contract also fit this global situation, whether specified in an exact phrase like "epidemic" or "illness" or in a broader description of various effects that could be created due to the virus.
In various transactions, such as purchase agreements, leases, mergers and acquisitions, infrastructure projects, etc., even though there is a high likelihood the agreement addresses and details various "force majeure" events, the contractual rights of the parties can still be examined, including the possibility of delaying or even canceling the agreements.
What can you do now?
Usually, you will not find an unequivocal answer and, of course, possible interpretation methods will be subject to the formulation of the specific clause of the contract you are a party to. Even when the clause applies to you, it is important to note what practical steps it allows a party to do. For example, occasionally, the entire contract can be canceled or terminated if the force majeure event has not ceased within a certain period of time. In other cases, the contract cannot be revoked, but a part or all of its obligations can be suspended until such force majeure event has ceased. There is significance to the contingency's occurrence date and the specified period at which the other party should be informed of the expected consequences on the performance of the contract.
Furthermore, each company, in accordance with its business field, is required to adapt to the newly created situation in the market in a way that allows it to continue to conduct regular commercial activities and, if necessary, to consider changes and take alternative measures so that its obligations can be fulfilled without harming the other side.
In conclusion
The effects of the coronavirus have been seen in a wide range of areas, and the rapid pace of change requires all of us to adapt and make changes on both a personal and business level. In order to add some clarity to the uncertainty surrounding the situation, it is important to understand what stage the parties to the contract are in, and to deepen the understanding of what rights and protections are available to them.
Whether you are a party to an existing contract or are negotiating one, it is important to consult with a professional for the purpose of planning the necessary actions you must take in order to handle the situation and minimize damage.
Source: barlaw.co.il