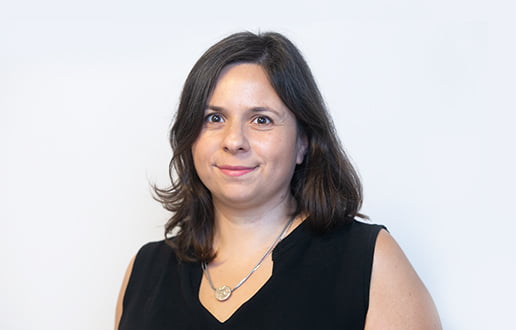 Electra City Tower
58 Harakevet St.
Tel Aviv
Netta Bromberg
Adv. Netta Bromberg provides legal advice to international and local entities, private and public-sector firms, hightech companies, and industrial companies, as well as to employees and senior executives, on a variety of employment issues.
Netta advises during international transactions, M&A transactions, and organizational restructuring processes on all aspects of labor law.
Netta has extensive experience appearing and managing various litigation processes in labor courts, accompanying and representing clients in mediation and arbitration proceedings, managing personal and collective disputes, conducting investigation proceedings under the Prevention of Sexual Harassment Law, investigating incidents of harassment at work, and more. She also provides advice and guidance during crisis events in workplaces due to global and local changes, and adapts the workplace and work relations to new and groundbreaking trends in Israeli labor law.
Netta advises on all aspects of employment relations, employment agreements (including executive employee agreements), collective employment agreements, compensation plans for employees and senior managers, the creation of work procedures, and proper management of employment termination procedures.
Education:
Tel Aviv University, B.A. Political Science 2005
Tel Aviv University, LL.B. 2004
Admission:
Israel Bar Association, 2005
News and updates - Netta Bromberg:
June 7, 2021
Employers: Coronavirus Restrictions Have Expired
On June 1, 2021, the regulations that guided the conduct of workplaces during the coronavirus crisis expired. Accordingly, from this day forward, there is no longer a requirement to operate in accordance with the green tag or purple tag directives in the workplace. At this stage, holding gatherings, professional trainings, and group meals at the workplace is permitted, even without observing social distancing.
June 6, 2021
Contractors' Lawsuits for Recognition of Employment Relationship: Changing the Rules of the Game
One of the possible contractual forms between parties is the provision of services as an independent contractor (in colloquial terms, a freelancer). This type of contracting is not particularly favored by labor courts, which seek, as a policy matter, to apply employment relations in cases involving claims of the existence of an employee-employer relationship. Once in a while, labor courts establish new rules on recognizing employment relationships and on retroactive calculation of the rights of independent contractors as employees.
May 23, 2021
How Should an Employer Deal with an Employee's Problematic Posts on Social Media?
In light of heightened security tensions in recent days, a post by an employee on social media that goes beyond the bounds of legitimate opinion may disrupt routine daily conduct in the workplace. An employer must therefore act accordingly to remedy the situation. In an op-ed published in Globes, Netta Bromberg, the head of our Employment Department, explains how an employer should respond.