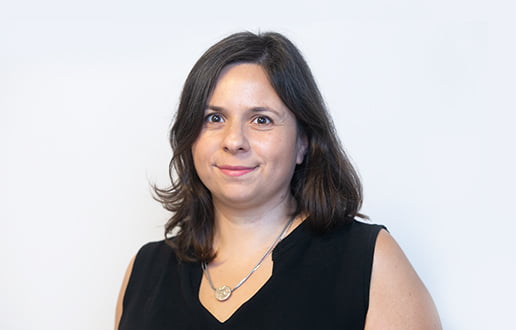 Electra City Tower
58 Harakevet St.
Tel Aviv
Netta Bromberg
Adv. Netta Bromberg provides legal advice to international and local entities, private and public-sector firms, hightech companies, and industrial companies, as well as to employees and senior executives, on a variety of employment issues.
Netta advises during international transactions, M&A transactions, and organizational restructuring processes on all aspects of labor law.
In addition, Netta has extensive experience appearing and managing various litigation processes in labor courts, representing clients in mediation and arbitration proceedings, managing personal and collective disputes, conducting investigation proceedings under the Prevention of Sexual Harassment Law, investigating incidents of harassment at work, and more. She also provides advice and guidance during crisis events in workplaces due to global and local changes, and adapts the workplace and work relations to new and groundbreaking trends in Israeli labor law.
Netta advises on all aspects of employment relations, employment agreements (including executive employee agreements), collective employment agreements, compensation plans for employees and senior managers, the creation of work procedures, and proper management of employment termination procedures.
Recognition 
Netta and her team are recognized by both local and international ranking guides as leaders in the employment field. For example, Legal 500 describes her as "dedicated, intelligent, and, most of all, she delivers."
The 2022 edition of Chambers and Partners ranks Netta as a leading lawyer in the Labor Law practice area. It describes her as "responsive, smart, business-oriented and practical."
Education:
Tel Aviv University, B.A. Political Science 2005
Tel Aviv University, LL.B. 2004
Admission:
Israel Bar Association, 2005
Insights & News - Netta Bromberg:
November 16, 2023
Swords of Iron: Unemployment Benefits and Unpaid Leave
The legislative process has ended and prescribes a series of reliefs and expansions in order to provide a solution for a relatively wide spectrum of employees sent home on unpaid leave as a result of the war. The law applies, inter alia, to pregnant women and women on maternity leave, employees with disabilities and employees over the age of 67.
November 14, 2023
Netta Bromberg Participated in Dun's 100 Conference for Senior Legal Officials
Yesterday, Dun's 100 hosted a conference for senior legal officials in the employment field to discuss the repercussions of Operation Swords of Iron on the Israeli labor market. Netta Bromberg, the head of our firm's Employment Department, noted during the discussion that "on October 7, we woke up to a legal vacuum in the field of labor relations. We need to solve this large legal vacuum with common sense and good will. This should be reflected in how businesses handle employee statements, layoffs and downsizing, unpaid leave, and more."  
November 14, 2023
Webinar: Labor Relations during a State of Emergency
Our firm hosted a webinar in collaboration with the Tel Aviv & Central Israel Chamber of Conference. Netta Bromberg, the head of our firm's Employment Department, lectured on the duties and rights of both employers and employees during wartime.