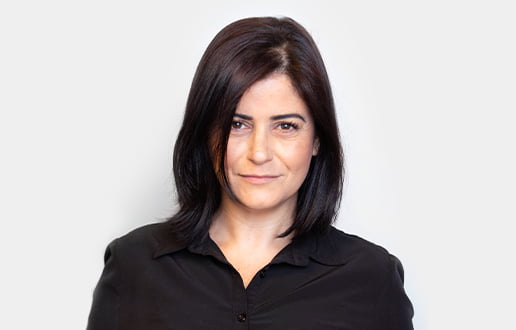 Electra City Tower
58 Harekevet St.
Tel Aviv
6777016
Terry Almozlino Arnon
Specializing in real estate law, Terry deals with a variety of aspects of real estate transactions, including legal support in the field of income-producing real estate.
Possessing 20 years of experience, Terry advises on a wide range of projects and transactions, as related to entrepreneurship, financing, development, litigation, and more.
Along with providing legal support in real-estate transactions, Terry guides her clients in various commercial and ongoing issues, and represents them before various courts.
Terry previously served as legal counsel for and board member of Arena Star Group, and was responsible, among other things, for the company's entire legal apparatus.
Terry's clients include some of the largest real estate companies in Israel, real estate investors, private developers, and logistics and infrastructure companies.
Prominent legal directory The Legal 500 ranks Terry as a Recommended Lawyer in the Real Estate practice area.
Education:
IDC Herzliya, LL.M. 2011
IDC Herzliya, LL.B. B.A. in Business Administration, Cum Laude 2002
Admission:
Member of the Israel Bar Association since 2003
Insights & News - Terry Almozlino Arnon:
July 15, 2023
Representing Aviv Group in ILS 1.1 Billion Financing Agreement
Terry Almozlino Arnon, Alon Wolner, and Nadav Shoshan represented Aviv Group in a financing agreement for the purchase of land for the construction of 733 housing units in Herzliya. The scope of the financing agreement is over NIS 1.1 billion.
June 8, 2023
Simulated Contracts and Concealed Agreements
The Israeli Supreme Court's ruling contains strict determinations regarding simulated contracts whose sole purpose is to defraud the tax authorities and the banking system. Inter alia, the Supreme Court addressed an ongoing judicial debate about the classification of simulated contracts.
May 18, 2023
Terry Almozlino Arnon Op-Ed: Supreme Court Rules to Invalidate Artificial Agreements
In a new ruling, the Supreme Court takes a step forward in declaring artificial agreements as invalid and illegal. (An artificial agreement is an agreement in which there is a discrepancy between the apparent agreements of the parties, as embodied in the contract, and their true will and intention.) Terry Almozlino Arnon, head of our firm's Commercial Real Estate Department, sheds light on the subject in an op-ed for Globes.