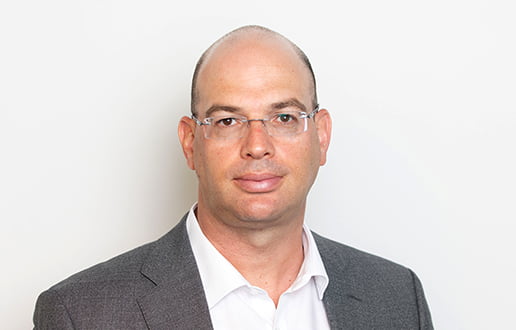 Electra City Tower
58 Harakevet St.
Tel Aviv
6777016
Zohar Lande
Zohar, one of the firm's founders and the head of its Litigation Department, has over 20 years' experience representing foreign and Israeli clients in commercial disputes. Zohar is involved in some of the most complex and sensitive litigation, arbitration, and mediation proceedings in Israel, and has an excellent track record of achieving results for clients.
Landmark cases in which he represented both corporations and individuals include disputes about investments in venture capital funds, rights of minority shareholders, IP infringement, derivative actions, corporate infrastructure, class actions, and distribution agreements. Zohar has acted for some of Israel's largest corporations, before both the administrative courts and the High Court of Justice.
Zohar's profound understanding of commercial law, and his ability to harness this insight on behalf of his clients, has established him as one of Israel's best-known litigation lawyers.
Both foreign and Israeli legal directories rank Zohar as a leading lawyer in his field. The prestigious Chambers and Partners' – Global Guide describes him as having "years of experience representing companies in high-profile and high-stakes business disputes."
The Legal 500 describes Zohar as a "brilliant person and lawyer. His thinking is different and out of the box. Zohar creates strategy and always thinks 10 steps ahead. He always precedes the counterparty in his thinking and gives us the best advice and representation. He is an expert in court hearings and performs beautifully and professionally." The guide also recommends Zohar for his "ability to adapt his positions in complex matters. This ability gives us an opportunity to review our current situation and to foresee the prospective consequences beyond the legal disputes which may occur in commercial life."
In addition to his legal work, Zohar is also involved in several nonprofit organizations dedicated to promoting education in Israel.
Education:
The Hebrew University, LLM, Law, Magna Cum Laude, 2000
The Hebrew University, LLB, Law, Magna Cum Laude, 1998
Admission:
Israel Bar Association, 1999
News and updates - Zohar Lande:
September 14, 2021
District Court Ruling: Azrieli Foundation Exempt from Paying Taxes on Dividends
An Israeli district court rejected the Israel Tax Authority's attempt to force the Azrieli Foundation to pay taxes in the amount of tens of millions of shekels for dividends it received and continues to receive due to its holding in Azrieli Group's shares. The court accepted the tax appeal, which was filed by Barnea Jaffa Lande, and ruled that the Azrieli Foundation,  a non-profit organization that works for the public good in Israel, is not the controlling owner of Azrieli Group and is therefore entitled to a tax exemption. The court ruled, among other things, that the ITA's position could have a chilling effect in relation to business entities' support of philanthropic associations. Our firm's  Zohar Lande, Eyal Nachshon, Harel Perlmutter, Nir Ziman, and Omer Keydar represented the Azrieli Foundation throughout the proceedings, which lasted about five years.
February 28, 2021
Precedent-Setting Ruling on Court Expenses
In a precedent-setting ruling, a family court ordered the losing side in a family dispute to pay the winning side attorney's fees and court expenses in the extraordinary and unprecedented amount of NIS 2 million. This ruling indicates a sweeping change in the Israeli legal world, following new regulations that came into effect in January 2021.
July 1, 2020
Lawsuit Filed against Moshe Hogeg Alleges Fraud in Stox Fund Raising
Our firm is representing a Canadian citizen in a NIS 5 million lawsuit against Moshe Hogeg, a well-known Israeli entrepreneur in the crypto field. Our client claims the funds raised by Hogeg's company Stox were used by the defendants for their own personal purposes, and that the defendants violated their obligations to investors.