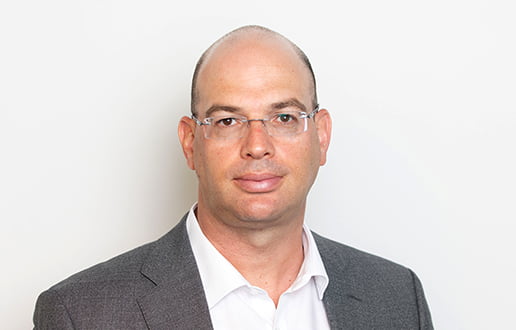 Electra City Tower
58 Harakevet St.
Tel Aviv
6777016
Zohar Lande
Zohar, one of the firm's founders and the head of its Litigation Department, has over 20 years' experience representing foreign and Israeli clients in commercial disputes. Zohar is involved in some of the most complex and sensitive litigation, arbitration, and mediation proceedings in Israel, and has an excellent track record of achieving results for clients.
Landmark cases in which he represented both corporations and individuals include disputes about investments in venture capital funds, rights of minority shareholders, IP infringement, derivative actions, corporate infrastructure, class actions, and distribution agreements. Zohar has acted for some of Israel's largest corporations, before both the administrative courts and the High Court of Justice.
Zohar's profound understanding of commercial law, and his ability to harness this insight on behalf of his clients, has established him as one of Israel's best-known litigation lawyers.
Both foreign and Israeli legal directories list Zohar as a top lawyer in his field. The Chambers and Partners Global Guide 2022 ranked Zohar as a leading lawyer in Litigation. This prestigious directory describes him as having "years of experience representing companies in high-profile and high-stakes business disputes."
Prominent legal directory The Legal 500 ranks Zohar as a Recommended Lawyer in the Dispute Resolution: Local Litigation & Arbitration practice area. The Legal 500 describes Zohar as "one of the top litigation attorneys in Israel. Zohar is very creative, dominant in the courtroom, and provides excellent results."
In addition to his legal work, Zohar is also involved in several nonprofit organizations dedicated to promoting education in Israel.
Education:
The Hebrew University, LLM, Law, Magna Cum Laude, 2000
The Hebrew University, LLB, Law, Magna Cum Laude, 1998
Admission:
Israel Bar Association, 1999
Insights & News - Zohar Lande:
September 6, 2023
Successful and Proactive Institutional Activism in Israel
Following a lengthy battle by the majority shareholders in Megureit, led by Phoenix Group and More Investment House, a significant reduction was made to the REIT fund's management fees. The agreement was reached after an institutional activist struggle, including a petition to the court and a demand for a special shareholders' meeting. Phoenix and More were represented by firm partners Zohar Lande and Hagit Ross, with additional assistance from Shachar Rothschild, Alon Anava, Tzofiya Shenfeld, and Ronit Lerer.
August 8, 2023
Barnea: Representing Client in NIS 11 Million Lawsuit
Our firm is representing Adi Nahum, a partner in the Contempo real estate group, and several companies owned by him, in an NIS 11 million claim for monetary relief and other remedies, including the removal of minority oppression and a declaratory judgment of ownership rights in companies in Contempo against the company's owner, Shahar Raz, and other companies in the group. Contempo oversees dozens of urban renewal projects in sought-after neighborhoods in central Tel Aviv, Givatayim, Givat Shmuel, Ra'anana, Bat Yam, and Ramat Hasharon.
July 5, 2023
Barnea: Representing RGE in Hot's Appeal to the Supreme Court over FREETV
Our firm represented RGE in the appeal the television cable company Hot filed with the Israeli Supreme Court over the Second Authority for Television and Radio's decision to approve the establishment of FREETV, a joint initiative between RGE and Keshet. In its appeal, Hot claimed approval of the project was invalid because of alleged harm to competition and because of the project's potential consequences on centralization in the media. The Supreme Court rejected the appeal and ruled it was not within Hot's authority to determine a legal flaw in the decision-making process or the approval itself. RGE was represented by Zohar Lande, Eran Winner, Ido Vakshi, and Lina Makhuli.