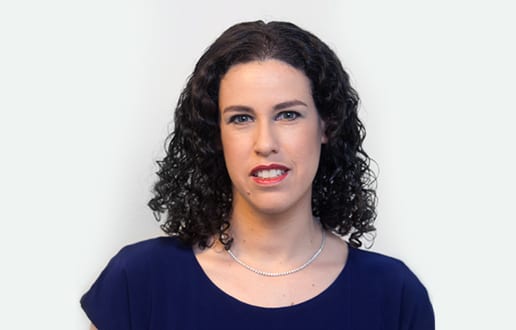 Electra City Tower
58 Harakevet St.
Tel Aviv
6777016
Hagit Ben Moshe
Hagit provides legal advice and assistance in relation to complex real estate transactions and business ventures. These include transactions to rezone agricultural land for commerce and employment; renewable energy and infrastructure transactions (power plants, pumped-storage hydroelectricity, wind turbines, solar, thermo-solar, photovoltaic, and biogas turbines); the establishment of commercial complexes; income-generating real estate transactions, tourism ventures (holiday villages, hotels, guest houses, B&Bs, and tourist attractions); the establishment of fuel stations; electricity sector transactions (electricity distributors, net metering, electricity purchases); medical cannabis; and more.
Hagit provides advice and assistance to her clients throughout all stages of a transaction – negotiations with entrepreneurs; finding the desirable corporate structure; financing aspects; reporting to the tax authorities; the obtainment of all requisite approvals, including the receipt of approvals from lien-holders, if any; and completion of land rezoning proceedings with both the planning and building authorities and the Israel Land Authority.
Hagit has extensive experience advising kibbutzim, moshavim and cooperative societies during various proceedings with the Israel Land Authority. These include proceedings to regulate land uses, cases of demands to return land to the State (inter alia, due to plans for construction in preferred areas for housing), objections to real-estate assessments, and the obtainment of permits for nonconforming use from the competent authority in the Ministry of Agriculture. She also provides ongoing and intensive legal assistance to cooperative societies in relation to diverse issues, including members' rights to residences (attribution of housing, restructuring of the society, etc.).
Hagit boasts extensive experience representing cooperative societies before planning and building committees and appeals committees, as well as during appeals to administrative affairs courts and in petitions to the High Court of Justice.
In addition to her legal practice, Hagit is a lecturer at national and regional conferences, seminar days, continuing education courses, etc.
Prominent legal directory The Legal 500 ranks Hagit in the Infrastructure and Energy practice areas.
Before joining our firm in 2019, Hagit was a partner and the head of the real estate in the cooperative societies department at a leading law firm.
Education:
Bar Ilan University, LL.M. 2004
Bar Ilan University, LL.B. Cum Laude 2003
Admission:
Member of Israel Bar Association since 2004
News and updates - Hagit Ben Moshe:
March 1, 2022
Talking Real Estate with ACC Israel
Our firm hosted the Association of Corporate Counsel's Real Estate Forum.
Adv. Terry Almozlino-Arnon lectured on important principles in income-producing real estate agreements. Adv. Maya Zisser lectured on the contents of rental housing agreements. Adv. Hagit Ben Moshe lectured on real estate transactions in the kibbutz sector. Adv. Elder Adato lectured on new trends in the field of urban renewal.
June 20, 2021
Purchase of Agricultural Land – Appraisal Standard No. 22
The purchase of agricultural land has become a common investment channel with high chances of success. Alongside this, there are a few risks potential buyers must prepare for.
Hagit Ben Moshe, who leads the kibbutz and agricultural sector at our firm, was interviewed by Ynet for an article on the risks of purchasing agricultural land. She explains what appraisal standard no. 22 is and its importance in such purchases.
December 8, 2020
Agriculture Law – Hagit Ben Moshe Op-Ed
Last October, the Knesset proposed a draft of the Agriculture Law. Yevul Si, a leading agriculture magazine, published an op-ed by our firm's Hagit Ben Moshe, an expert in the field. She provided commentary on the law, and on the importance of properly compensating the agriculture industry.