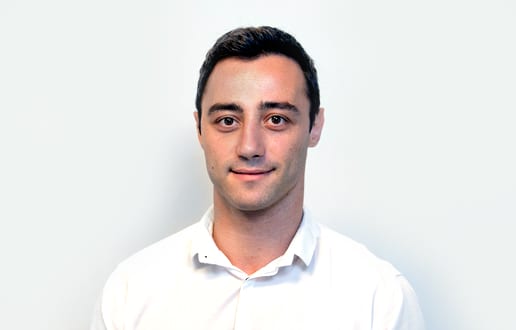 Electra City Tower
58 Harakevet St.
Tel Aviv
6777016
Michael Dubin
Michael specializes in representing companies and individuals in a variety of cases and on a wide range of matters in the field of civil-commercial litigation.
Adv. Michael Dubin represents his clients in all types of legal proceedings before the various courts including arbitration, mediation, and negotiation. He provides legal advice in insolvency proceedings and in various monetary claims, as well as on matters related to contract and corporate law, administrative law, and real estate law.
Michael joined Barnea in 2018. Prior to joining, Michael worked in leading law firms and served as a reporter and editor on a financial portal. There he gained extensive knowledge in the field, analyzing shares and bonds for a series of public companies.
Education:
Tel-Aviv University, LL.M. (cum laude), 2019
Hebrew University of Jerusalem, LL.B, B.A Business Administration, 2011
Admission:
Member of Israel Bar Association since 2012
News and updates - Michael Dubin:
February 11, 2021
Temporary Procedure for Insolvency Procedures in Israel in Light of COVID-19
Update: Since this article was originally published (in February 11, 2021), the proposed amendment has passed a third reading in The Knesset (Israel parliament) and the amendment will take effect as a temporary order from March 18, 2021 until March 17, 2022.
****
The coronavirus pandemic has wreaked extensive economic havoc on the activities of many businesses and households in Israel. According to data from the Commissioner of Insolvency Proceedings, 2020 brought a rise of about 41% in the number of applications to commence insolvency proceedings compared to 2019.
In light of these data, Ministry of Justice officials estimate a "flood" of requests to open insolvency proceedings in 2021.
This assessment, coupled with the fact that, as currently written, the Insolvency and Rehabilitation Law is not designed to respond to so many simultaneous applications, has led the Ministry of Justice to realize there is a need to create an additional framework for the law.
Indeed, in order to bridge these gaps, the Ministry of Justice published a legislative memorandum intended to amend temporarily the Insolvency and Rehabilitation Law through an interim provision. The memorandum's goal is "to create a framework to address the rise in the scope of debtors seeking debt restructuring or insolvency proceedings as a result of the crisis in the market. The new framework will also adjust such proceedings to the particular characteristics of these debtors. It will do so by suspending creditors' ability to initiate insolvency proceedings and by encouraging debtors to commence debt restructuring proceedings."
The Proposed Amendment to the Insolvency and Rehabilitation Law
The amendment proposes, inter alia, adding a new chapter to the Insolvency Law that addresses stays of proceedings to reach a debt settlement. This will require neither an order to commence proceedings nor the appointment of a manager of the debtor's assets (with the exception of one in an accompanying role). In other words, it will be possible to order "automatically" a stay of legal proceedings against a debtor in a shortened process. The shortened process will afford debtors harmed because of the pandemic a grace period to prepare and arrange a settlement agreement with their creditors.
Granting a stay prevents creditors from commencing legal proceedings against debtors in court or collection proceedings in the Execution Office. The purpose of a stay, to be granted only for a limited time, is to allow a debtor to reach an agreement regarding the terms of repaying the debt accumulated or defaulted upon, and to conduct most of the procedure outside court. We note the law (prior to the proposed amendment) permits a stay only upon securing an order for the commencement of proceedings. In other words, a debtor trying to reach an agreement with creditors, and who has not been subject to a commencement order (and, of course, if no application for such order was submitted), cannot "enjoy" a stay of legal proceedings.
The proposed amendment to the law constitutes an important and meaningful change. It will make a simpler and cheaper track possible instead of the regular track of commencing proceedings. In addition, this track may also prevent the inherent devaluing that results from the mere entering into of insolvency proceedings. The ramifications of a debtor entering into an insolvency proceeding are significant, for several reasons. First, upon securing an order to commence proceedings, an executor is appointed. This executor is in charge of managing the assets in the debtor's resources and must protect the interests of various creditors. Second, harsh restrictions are usually imposed upon an individual debtor, such as a preliminary injunction preventing him from leaving Israel, receiverships (for assets that constitute the debtor's resources from which creditors are to be paid), restrictions on transactions in assets and finances, and more.
We believe this is a welcome initiative, which may provide businesses and households some breathing room until the coronavirus crisis is over. However, since Israel is in the midst of a fourth election cycle, there is a high likelihood the amendment will not pass before the new Knesset is seated. Still, we are hopeful this statutory memorandum advances as quickly as possible, as was the case recently with another amendment to the law. On December 31, 2020, the Knesset's Constitution, Law and Justice Committee approved regulations regarding the creation of trustees' lists in respect of the Insolvency and Rehabilitation Law.
Our team is at your service for any question on insolvency law and other legal matters.
For the statutory amendment, click here.
August 25, 2020
New Ruling Expected to Reduce Managers' Responsibility Following a Company's Collapse
In an important ruling recently handed down, the Tel Aviv District Court rejected a NIS 120 million lawsuit filed by Habas Group against the company's managers. Judge Kabub's ruling constitutes an initial interpretation of a new section of the the Insolvency and Rehabilitation Law, which deals with the degree of responsibility that can be attributed to managers when the company they run becomes insolvent. Advs. Eyal Nachshon and Michael Dubin analyze the ruling in an article published by Calcalist.
July 1, 2020
Lawsuit Filed against Moshe Hogeg Alleges Fraud in Stox Fund Raising
Our firm is representing a Canadian citizen in a NIS 5 million lawsuit against Moshe Hogeg, a well-known Israeli entrepreneur in the crypto field. Our client claims the funds raised by Hogeg's company Stox were used by the defendants for their own personal purposes, and that the defendants violated their obligations to investors.